See screenshot. The notification is displayed three times in the backend. Obvoiusly I'm using the non-pro version on the latest update.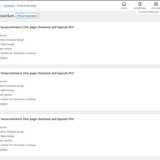 3 Answers
Hi @ Maarten, 
You can simply close the notifications using cross button at your  end. I will check the error at my end and update it , so no one gets unwanted notifications.
Thanks for writing. 


Than I'll have to close three notifications  on every backend page. I'm looking forward to the update.
Hi, I am experiencing the same bug albeit I have two notifications that show on the Woocommerce Productpages. They show with every page load and take up the entire screen…I don't believe I have seen them on any other page though. I have tried numerous plugins which hide/disable notices but none worked for this bug. For now I solved it with some CSS:-(
Hope you will solve this with an update.
Cheers, Charles
PS: I was so annoyed that I completely forget to say that I like the plugin very much and worth a 5-star rating one this bug is gone. So thanks for a wonderful plugin!